Kids Camp
Refiner's Fire One-Day Kids Camp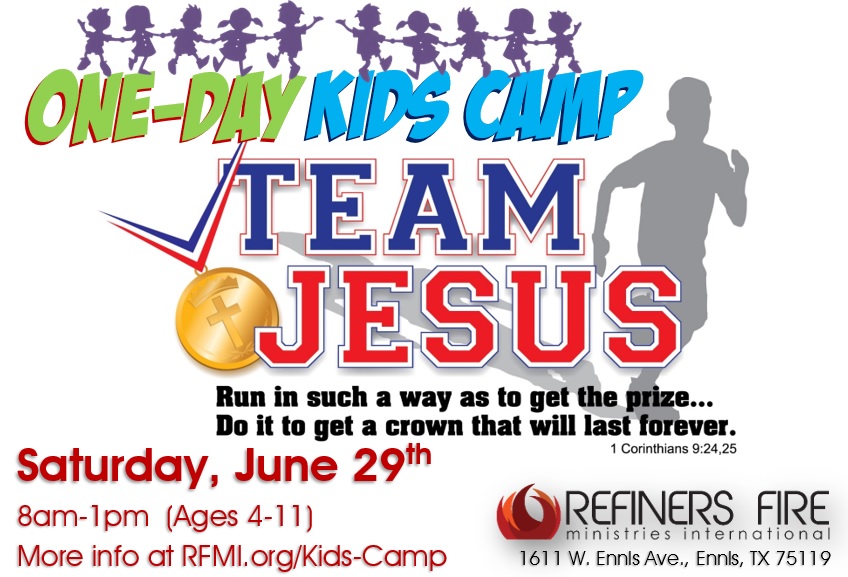 Saturday
June 29, 2019
8am-1pm
Refiner's Fire Ennis Campus
Ages 4-11
Bible lessons & activities designed for kids age 4-11
Age appropriate group activities

Music

Games

Snacks

Crafts

Awards
We're excited to announce our first One-Day Kids Camp for children ages 4-11 only at Refiner's Fire Ennis (1611 W. Ennis Ave., Ennis, TX 75119) Our kids camp experience will allow your kids and grandkids to receive the Word of God in a fun and easy format designed specifically for their developing spiritual walk with Jesus. We will have music, crafts, games, snacks and more to keep them engaged and excited about being a champion for Christ. Our prayer is that your children will be energized by the love of Jesus Christ and will take that love into your family for many years!
We thank you for the opportunity to partner with you in the development of your children's walk with Christ and we look forward to making this event the best one of their summer!
Registration cards are available now and can be obtained from anyone in Kids World or on the day of the event.