Refiner's Fire Youth Baked Potato Fundraiser - Eustace
Sunday, April 22, 2018 from 11:30 AM to 1:30 PM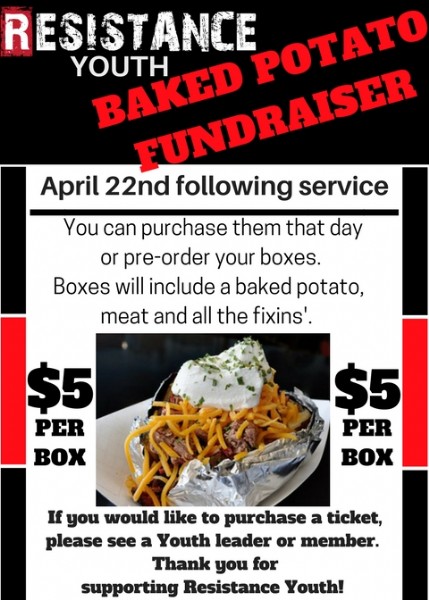 Are you hungry?!
Are you going out to eat after church?
Let us do the cooking!
Resistance Youth is hosting a Baked Potato Lunch Fundraiser to help raise money for Refiner's Fire Youth Camp. Get you and your family a Baked Potato Box including potato, meat and all the fixins' for $5 each immediately following service. For your convenience, plates will be "to-go" only to make the process quick and easy for your family.
Resistance Youth teens who work the event will receive a credit towards their balance to Refiner's Fire Youth Camp in June. To learn more about camp, click here.
Event Location
RF Eustace • 211 US-175 • Eustace, TX 75124 • US